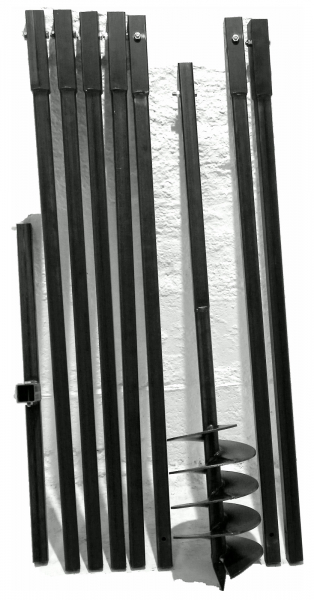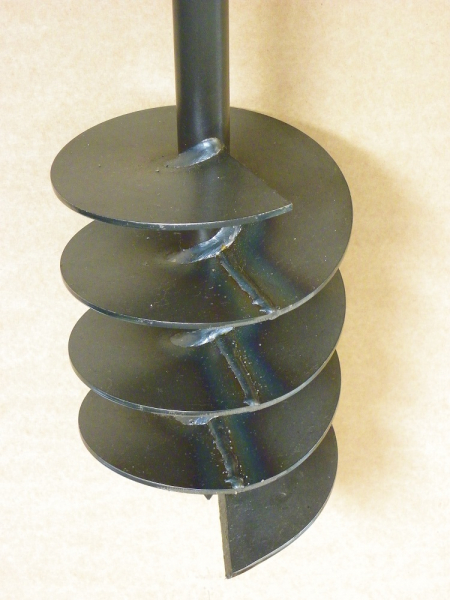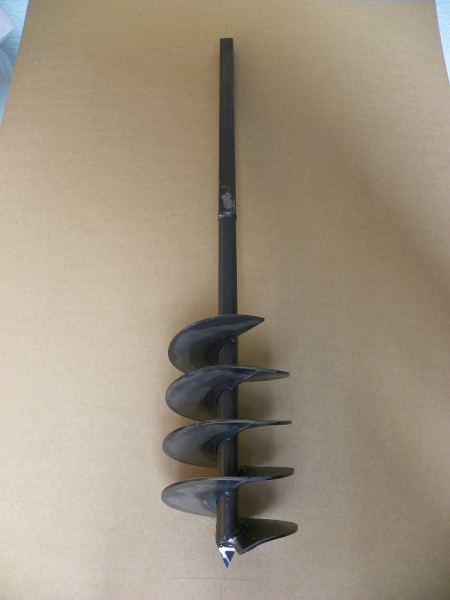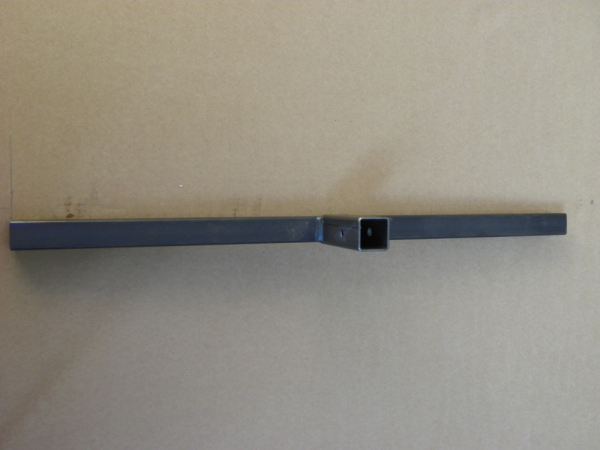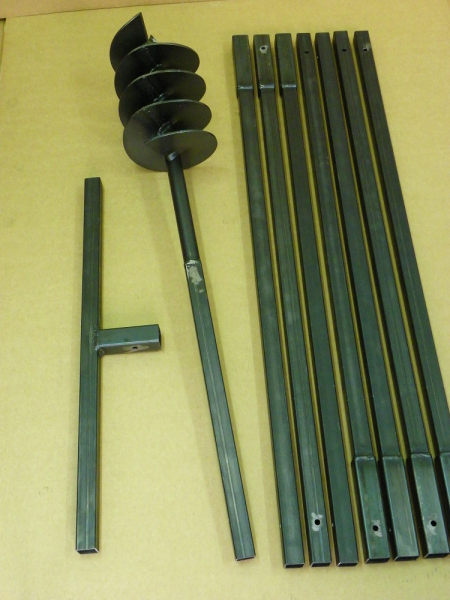 180 mm 8 meter auger set, earth auger, well drill, hand auger
180 mm / 8 m set
Stable, expandable, high quality, cost-effective price
Here we offer you a new manual earth auger set with which wells can be drilled. This set is handmade and manufactured using much stronger material than necessary. The weld joints seen on the auger have been left intentionally unsanded to further prevent earth from slicing back. Furthermore, we don't sand the weld joints to prevent weakening. The drill set is intended for manual use and should jam the cuttings in the auger, since this is the only possible way to manually drill a hole in the earth. The auger's pitch has been selected to be lower for this reason. We have good reason to dispense with paint, because a thin oil film is best protection against corrosion in our opinion. Our sets are tested up to a depth of 20 m under normal conditions. They have been tested in compliance with the handling description. Greater depths are theoretically possible since sets that can be expanded at any time are involved here (the handles and drill bits fit one another and can therefore be combined in all of the extensions we offer).
Brief handling description
The drill is put together as needed and secured with screws to obtain to the desired length. It is then placed on the ground and turned to the right (You don't need to exert too much force since the drill pulls itself into the earth due to its construction). The drill is raised depending on the feeling or stiffness and the auger freed of cuttings. An additional depth of at least 25 cm is achieved during each procedure of this kind. This procedure is repeated until the desired depth is reached.
It is possible to reach a depth of 6 m in about 2 hours depending on soil properties.
The drill is intended for use with clay, sand, and earth. Small stones are no problem, however, because the drill pushes these away, conveys them upward or jams (depending on the size).
Examples of use:
•Earth drilling for well sinking and impact well sinking
•Earth drilling for well-drain construction / drainage
•Borings for horizontal or level bore holes
•Borings for fence post construction or fencing systems
•Borings for post supports
•Also quite helpful when setting trees and during planting
Technical data
Total length / max. drill depth: 8 m
Drill diameter: 180 mm
Auger pitch: 55 mm
Max. auger-plate length: 250 mm
Auger-plate material thickness: 4 mm
Tip elaboration: self-tapping tip
Extensions' material: 30 x 30 x 2 mm (square tube)
Delivery
1 drill bit
7 extensions (1 m)
1 handle
8 screws + 8 nuts (M 8)
One set of handling instructions is included with each delivery.
Delivery time generally amounts to 3–4 work days. These drills are manufactured in Germany and are also delivered from Germany. Please give a telephone number where the shipping company can reach you at any time in all cases when ordering. We only supply the mainland.
An unpainted set treated with a light oil film is delivered. You'll enjoy long-term use if you treat the drill with an oil-soaked cloth after each use. However, isolated surface rust cannot be excluded.
We deliver exclusively through the 'DPD' company due to the weights, delivery times, and packaging sizes involved. We charge only the actual shipping rates, which are determined by the weight. We request that you take this into consideration during the assessments.
You can find other sets, extensions, drill bits, and handles in our shop.